BYSTEVE DUCK FOR COMPLEX AUSTRALIA
Editor, Complex AU.FEB 26, 2019
Business is done differently in 2019. Uber changed transport. Netflix changed entertainment. Nipsey Hussle is changing the artist archetype. No conventional artist development plan would include charging $100 for a mixtape and waiting 10 years before you drop a debut album, but Nip is a strategic dude.
Despite being one of the few shining lights in LA's post-Game, pre-TDE era, Nipsey rarely received the support of local radio. Instead, he generated his own press when he asked $100 for the Crenshawmixtape. When label deals came and went with no benefit, Nip shrugged it off by diversifying his income with investment in everything, from cryptocurrency to a revenue-generating recording studio, and relieving the stress of living purely off of music.
When his debut album Victory Lap finally dropped in 2018, Nip again defied convention by stretching the album roll out across eight months. In 2019, Victory Lap was recognised with a Grammy nomination. Since then, he's been featured in both Forbes – discussing a new real estate development – and GQ, where he was photographed in his native South Central, with a resplendent white horse, no less.
With both his cultural and capitalist credibility growing, it's natural to draw comparisons between Nip and Jay Z. "[Jay Z is] the prime example," explains Nipsey. "But you got Puff, you got Master P, you got Rick Ross, you got T.I, you got Jeezy, Ludacris, Dr. Dre, 50 Cent."
"These are the moguls that built enterprise around their music," he continues. "That mentality of using the core business, which for us is music, and then building this enterprise around yourself; you create wealth when you empower your team with it, and you take the pressure off of your core business. You could do [music] out of the love when you got all these other things that take care of the bottom line."
It's at this point that the blueprint becomes more clear. Rather than hampering Nipsey Hussle as several time-consuming distractions, his various pursuits outside of hip-hop are actually aiding his music. "Doing music to pay bills is an uncomfortable situation," he explains. "I never wanted to be in that situation. When I was coming out the street, that's why we was hustling; so we didn't have to put so much pressure on the music, like 'if I don't get this right, I can't eat, or I can't pay the bills.'"
"For that same reason, you got Ace of Spades. You got Ciroc. You got Dre Beats. You got Vitamin Water. All these different ventures to just make sure that you're never going to the space of completely relying on music or your core business."
Comfortable in the knowledge that his bills were paid and several bags were secure, Nip used 2017 to craft his first album. After almost ten years of independent mixtapes, 2018's Victory Lap was not only Hussle's debut album, but his first experience releasing music on a major label. The result was heralded as his best work yet. "That was my goal," Nip declares. "To make a really focused project. Not just songs but an album where songs interact with each other and the messages are told over the course of three or four songs instead of one."
It's tempting to categorise Nipsey Hussle as a hustler first and artist second, but Victory Lap secured that Best Rap Album Grammy nomination off the back of Nip's respect for the art and focus on crafting an album. "I had big records," he says. "I had a record with Cardi B, I had a record with Future, and these [were] probably hits. But Victory Lap won't be Victory Lap if you go get to track 9 or track 10 and hear, 'oh, he's trying to cover the club record' or 'he trying to get to the female audience with this one.' I wanted it to be just a person telling their life story over the course of an album."
Victory Lap is now in the rear view. Only a few weeks into 2019, Nip has already switched lanes and is advancing toward the next milestone on the marathon. The quick re-up and release of "Racks In The Middle" flags more music to come. "I was finishing something with Victory Lap. The next project is going to be more of a chapter one to something new," he says.
Victory Lap was the conclusion of Nipsey Hussle's first phase; the independent grind, the decade of mixtapes, the transition from bangin' on wax to educating his audience about equity and investment.
A new chapter is already being written in Nip's business life. His long-standing Marathon flagship store sits in the centre of a strip mall on Crenshaw & Slauson. Hussle recently acquired ownership of the entire mall and will now add value to the space with housing built above the refurbished commercial properties.
"I was aware of what was going to happen to my business life as I was making Victory Lap. This moment now is what came after it. That's what the moment represents, a new chapter."POST CONTINUES BELOW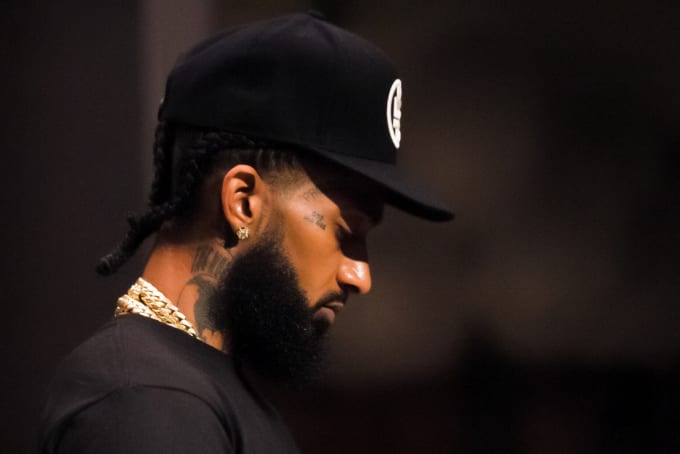 With time divided between business and music, it's natural the two strands of Nipsey's DNA will intertwine, something like a double helix, to inform his next move; be it in the booth or the board room. The lessons learned in the corporate world are influencing his artistic output.
"I got an album concept called Exit Strategy, that might be one of my last ones," he says. "It's a term they use in business when you build companies. You create an exit strategy as you make a company. You don't wait till you're five years in it; you create a exit strategy as you make the company. So the exit strategy for a lot of companies is to go public, or to sell."
Just as Victory Lap closed the chapter on his introduction, Nip already has a plan in place for closing the whole book.
"As an artist, as a brand, as a rapper, as a musician, you know you got a window and a lot of people, even an athlete; they don't have no exit strategy. It's just living in the false reality that it's going to be like this forever. From their lifestyle, the way they spend money, everything. I don't feel comfortable moving like that, so I have an exit strategy."
"One of the most important things to know is when it's over. Even with a stock, with a business, whatever. It's not called quitting if you quit while you ahead. It's about being aware and being strategic enough to know that you got to get out the pool at some point. You got to put your clothes back on and dry off."
In our current era, personality is driving culture. Individuals have used YouTube and Instagram to build their own platforms and acquire audience at large scale. Consumers are fatigued by brand messaging and are now driven by individuals. Brands have caught on and cultivate quirky personalities to grow their social media audiences.
The trend is not lost on Nipsey Hussle. His unique offering of good music, good investments and good intentions – such as prioritising investment in his own community – means he has earned not just fans, but a tribe of loyalists. Rap is one part of it, but drive, persistence and celebration of the hustler's mentality is another. Hussle has become a Gary Vaynerchuk figure, but instead of a weird K-Swiss endorsement deal, Nip flies in Puma's private jet.
For Nipsey, who around this time last year was proudly declaring "I take my time, and take my tribe / Every level that I crossed in this game," the loyal fans are appreciated but come as no surprise. "It was about making sure that the moves that we made and the things that we did – from the music we put out to the business moves – represented the values of the brand," he explains. "And staying true to that, as we continue to move forward, to put that at the front of what we do."
"The Marathon is something everybody can apply to whatever they doing and aspiring to do, and can add value to their life. It's something they can bring back to their circle and make their circle better. I think that's what's at the core of what got people supporting and behind my movement," he says. Gary Vee could never.
With a first-attempt Grammy nomination, a Puma endorsement deal and several business projects flourishing, Nip has a lot to be grateful for, but Neighborhood Nip is still most excited about the way his impact is felt in his own community.
"I've gotten it from young artists and young hustlers, like 'Nip man, I was really inspired by this move you did and I got my own version of that, me and my team.' That's what it's about. Adding something to the game that people can take from."
"More than a lot of the things that we considered a success. I know in my heart that it's a higher power and a higher value to what we can do. The times we do it right and it connects and it has that effect on people; that's really, really fulfilling."